Cars 101: Hypermiling
Posted: August 12, 2011
Filed under:
CARS 101
| Tags: Car, Cars 101, Diesel, driving, Gas, Gas Prices, Hybrid, mileage, Mind over motor, mpg, Saving Money
Leave a comment »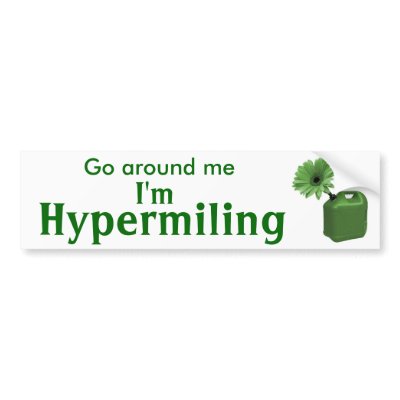 Anyone knows that saving gas saves money.  Of course, those of us who have hybrids are occasionally so obsessed with it that they will do whatever is necessary to keep their MPG up and their costs down.  Here's a couple of ways to bring up your gas mileage without a lot of extra work.
One easy way to save gas is to avoid jackrabbit starts and sudden stops at all costs.  Smoothness is key–if sudden movements can be avoided, they should be.  In town, if it isn't too hot or cold, keep the air conditioning off and the windows down, or if air quality is poor, turn on the re-circulation system in the car and turn on the fan, without using the A/C–this way, the compressor stays off, lessening the strain on the engine.  Try to stay in the highest gear as well, it keeps the engine spinning at a lower RPM, which will also ease strain, and use less fuel in effect.
On the highway, some recommend leaving the A/C on if it is warm outside and leaving the windows up.  I happen to disagree based on my own tests–with the windows down in one particular car I previously owned, I was getting 4-5MPG over the EPA's measurement. Drive with the flow of traffic, but be aware that going over 70MPH in most cars (those that are not tuned for highway cruising) will cause a drop in MPG.  Strangely, the cruise control, due to its use of the throttle to keep speed constant, will use more fuel, so if you can avoid using it, then do so.  Be aware , though, that if you're going to do this normally, try to stay away from holding people up behind you–no one likes some jerk in a Prius who's causing a highway hazard.  Like I said, go with the flow of traffic on the highway and just drive smoothly.
It's never a bad idea to save fuel on the move, and it's saved my wallet once or twice in the past few years.  Hypermiling, while not one of my favorite ways to drive, is a pretty novel idea for those who embrace their wallet over their petrol bills.
-Al
---