Test Driven: 2002 Audi A6 4.2 (8.5/10)
Posted: November 17, 2011
Filed under: Road Review, TEST DRIVEN
| Tags: 2002, 300, 4.2, A6, all, Audi, autobahn, AWD, bargain, C5, cruiser, Drive, hp, Leather, Luxury, Mind, motor, Over, owned, Pre, Quattro, review, Saloon, Sedan, Test, Used, V8, wheel, wood
2 Comments »
A few years back I helped my buddy Tony find his Audi A6 4.2. The Audi A6 has always been a solid car over the years, in all of its variants. Tony had originally wanted the A6 2.7T, but after finding 3 examples that all had blown turbos he decided to go for the V8 model. We found a clean A6 4.2 about an hour north of us, and that is the car that Tony bought, and the car you see here in this review.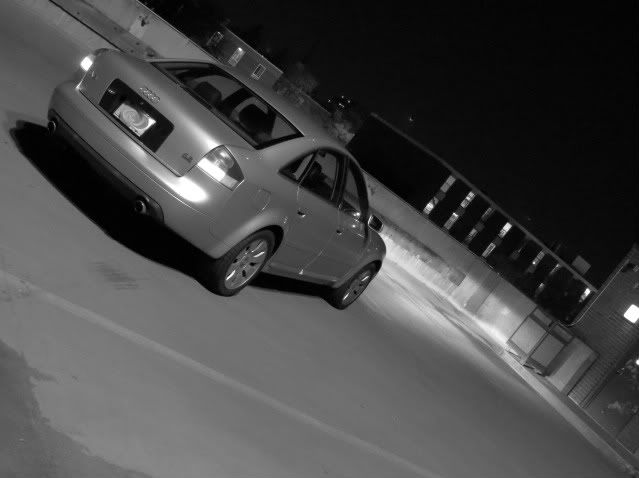 When it was new, this A6, with its 4.2 liter V8 and a whole list of options, was the top of its line. Differentiated from lesser A6 models by its wide body stance and fender flares, it had everything you would want from a big German sedan: comfortable, relaxed in nature, solid power, and the ability to cruise at high speed with ease. Today it is the same story as the car has aged, it is still very comfortable and its 300hp is on par with the brand new A6 3.0T. So the overall package does not feel all that dated, which is nice to know when buying a premium car, even on the second hand market.
My drive in the A6 had a solid route consisting of a 30-minute highway stint, a nice area with some open roads, a mountain pass with some curves, and some urban sprawl on the way back. On the highway I had the car up to what we'll call "autobahn speeds", and it felt completely in its element; fully planted and relaxed, despite ever-increasing velocity. Its power delivery was smooth and it offered some nice midrange pull for easy overtaking. On the street, compared to most cars, the A6 4.2 was pretty fast, and it certainly had more than enough punch to command my dominance on the road. 1st and 2nd gear pulled pretty hard, but overall the car behaves in a very mature fashion, even when my right foot was active. It was smooth, calm, composed, and exceedingly competent on the open road.
When we hit the mountain it was time to throw some corners at the A6 and see how it did. Handling wise the A6 was good for what it is. It tends to feel smaller than it actually is, but I was definitely aware of its 2 tons when braking into a corner. It was also bit nose heavy when turning in, so plan for understeer if pushing it hard. Having said that though, it was definitely sporty enough to have some fun with, and it did have plenty of grip on hand with its 255s all around. I would also say that its Tiptronic transmission is one of the better ones I have driven from this era, and that its good responsiveness to shifting inputs definitely added to the sporting experience on these roads. The only thing i found myself wanting more of was steering feel, as it is a bit numb and disconnected for my taste. But overall the A6 maintained its composure well on the twisty, mountain roads.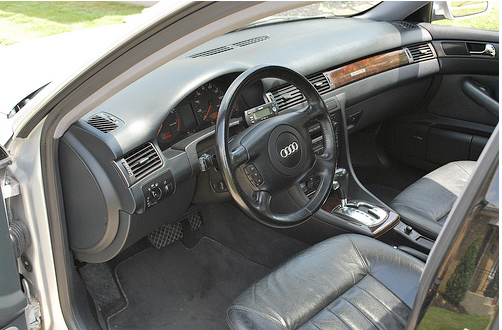 The interior of the car is of very high quality and functionality, but lacks any sort of flair that would make it aesthetically interesting. In other words, its very German: "everysing is in zee right place and zee buttons a' all sqvares because ve dont need to be anysing else". So, while the everything is put together well and the proper materials were used, the overall design is rather boring and purely functional. The seats are fantastic though, comfortable and supportive, and the leather's texture remains superb even after 9 years of use. Practicality-wise, the A6 4.2 is a typical full size sedan with a lot of trunk space and room to fit 5 adults comfortably.
The car's Quattro all wheel drive system is a godsend for anyone who has to deal with snow and ice during the winter to get to work. The all wheel drive also adds a level of solidarity that similar BMWs and Mercedes of the era do not offer. The A6 just feels so planted on the road because of the Quattro, and on a day-to-day commute, that is a big deal.
Now, while the overall package of the A6 4.2 is fantastic, the car has had some issues worth noting to potential buyers. Over the past few years, Tony has had some electrical gremlins of varying severity that can cost a lot to fix if you take the car to a dealer. The trick with any late model European car is to find a separate mechanic who can work on your car for much less money, and won't just replace things that can be mended easily. The car does have around 90,000 miles on it now though, and many of these issues could fall under routine maintenance, but the cost does tend to add up a bit. Also, being a two-ton V8 sedan, the fuel consumption around town is not the best out there, and it can only be filled with 91 octane or higher, so be ready to pay for gas. On a brighter note, the A6 does very well on the highway. Tony has gone from Trenton, NJ to Washington and back on less than half a tank of gas. So, when considering an A6, just think about what sort of driving you will be doing.
In a nutshell, the Audi A6 4.2 is an extremely competent vehicle that will do anything you ask of it without any drama. It has the class, style, and luxury that many people want. This is the answer for most people, who cannot afford to buy such a car brand new. It does not scream for attention, running incognito to most people, but those who know what it is will never overlook it. If you are willing to pay to play when it comes to gas and maintenance then this is quite a car for the money. It offers that high end experience for less money than a new Honda Civic, so if you have a long commute, and want something cool, fast, and stylish, then the Audi A6 4.2 is definitely worth a look.
WoM Score: Audi A6 4.2 (used)
Primary Function: Luxury: 2
Secondary Functions: Performance(2), Practicality(1), MPG(1): 1.5
Visual Appeal: 2….. the widebody stance makes the look
Build Quality: 2
Value for Money: 1……. price of entry is great, but running costs are high

Final Score: 8.5/10
Special thanks to my bro Tony for letting me review his car, it was a pleasure to drive.
-Nick
---