Road Review: Nick's 1993 Mazda MX5 Miata (9/10)
Posted: December 15, 2011
| Author: ndubs77
|
Filed under: Photography by Dan Valanzola, Road Review, TEST DRIVEN
| Tags: 1.6, 1992, 1993, 4, 92, 93, Beat, Car, Cat, catback, Convertible, Cruising, driving, exhaust, Flyin, four, full, fun, girly, great, handling, HFC, Inline, joy, magnaflow, Mazda, Miata, Mind, mine, motor, my, N1, NA, Over, own, photos, racing, review, Roadster, Sport, Sports, stage 2, Suspension, Test, Thoughts
|
2 Comments »
The Mazda Miata is, in many ways, a controversial car among auto enthusiasts. On one hand it has a huge enthusiast following and is one of the best selling sports cars of all time, and on the other hand there are many people who wouldn't call it a sports car at all. The later often likes to stigmatize the Miata as a "girls car" that is more of a fashion accessory than a driving machine. For a while I was one of those people, I thought the Miata was too slow to offer any excitement. However, a few years ago, I got my hands on EVO Magazine's piece on the 100 greatest driver's cars of all time and I was shocked to see the Miata in the top ten. I read their reasoning on their choice, and their general thoughts on the car. They said it was like many faster sports cars, but the whole experience is in slow motion, and that it really allows you to both savor the experience of driving and work on your technique. My mind was forever changed about the Miata, so much so that I decided to buy one a few months later to have as a fun second car. I have now owned it for around a year and a half, and have tried to sum the car up for you below.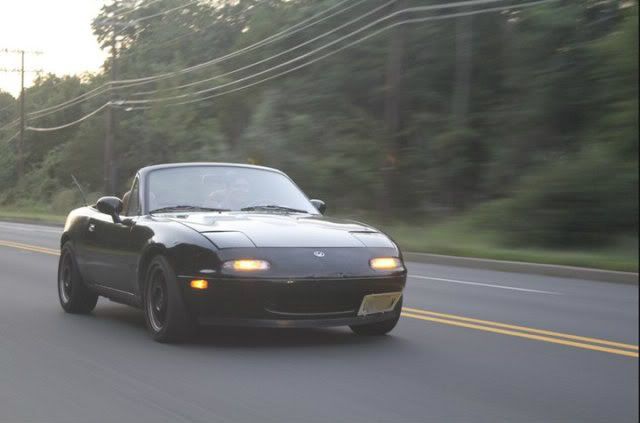 When I bought my Miata it was in lieu of putting a larger turbocharger on my Subaru STi, and at the time it cost me about half as much (although the money spent on the Miata now is around the same). I made that choice because I wanted to use the Miata to become a better driver and to get involved with legitimate events such as auto cross and track days. I also knew that the Miata would be a solid compliment to my STi, because they are two entirely different experiences. In hindsight, I have yet to take the car racing on the track, but I could not have been more right about how well it would go together with the Subaru. The Miata is a roadster and I use it as such, going for long cruises through the countryside for no reason other than to just enjoy the drive and the wind in my hair. I love the car and what it offers, but that is not to say it is perfect by any means.
Chris Harris, of EVO Magazine, wrote about the Miata and how he did not think it was a true sports car. While I would ardently disagree with him, I do have to admit that the stock package needed some work. Aside from the obvious lack of acceleration, the stock car's handling was good only up to it's limit. Once you got cornering hard the car would lean a lot and most slides were quite difficult to recover or transition from. Also, the stock tires were too thin and of bad quality. The Miata in stock form is meant only to be exciting for the average driver who will never really push the car's limits. So, because of this, I have modified my Miata to make it better on all fronts as a sports car.
If the stock Miata isn't good enough to be considered a true sports car, then the changes I have made to mine surely change that. It has a stage 2 Flyin Miata suspension (FM springs, Tokico shocks, and an FM front sway bar), Motegi Traklite wheels (15×7), 205mm wide tires (over the stock 185mm), K&N Intake filter, Full exhaust (Racing Beat Headers, Magnaflow HF cat, Ebay N1 catback), and the power steering has been disabled. The net result from all of these mods is the car now handles like a go-cart, with grip for days, has a much stiffer ride, very sharp steering response, slightly more power (still pretty slow though) with a nicer sound, and it is much more manageable when driving hard. This Miata is really all about the handling, and maintaining what speed you can get as much as possible. It is very fun to drive around anywhere that there are corners. Whether it means whipping it hard through a town block, or tearing down a winding back road, excitement is just a flick of the wheel away. Sometimes it is even a little too much fun and I find myself doing mischievous things where I really shouldn't (like fishtailing out of the parking lot by the campus center), but I figure it is worth it if the car puts a smile on my face.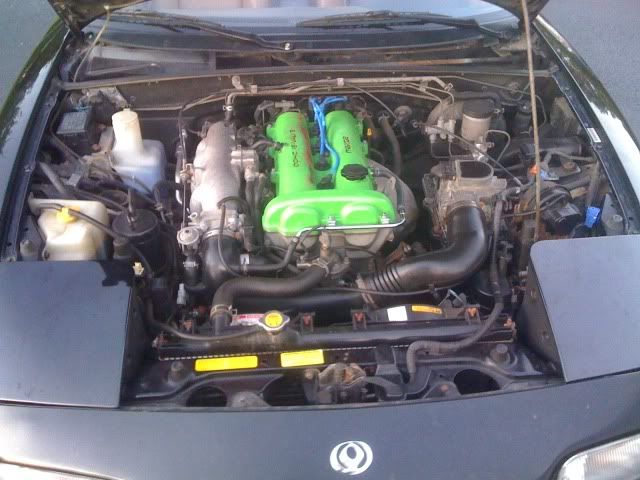 In traffic the best thing about the Miata is how nimble it is. I can just zip between cars like nothing if I'm in a hurry, assuming their speed is fairly constant. Merging is a bit of an issue though. I definitely find myself being much more passive in the Miata than in the STi when getting onto freeways, changing lanes, etc. The Miata can go the speed limit just fine, and can even cruise in the left lane at 80, it just takes a little while to get there though. The fastest I've ever gone in the car was 101mph, just to touch triple digits, but this is not a top end car at all. On the highway it is generally most comfortable around 70-75mph; if you cruise at 80 then the motor is spinning over 4000rpm constantly and it just feels a bit strained in my opinion. It also feels threateningly small next to big rigs and SUVs on the highway which only detracts from the experience there even more. All in all, I tend to stay off the highway when possible because the car is out of its element there.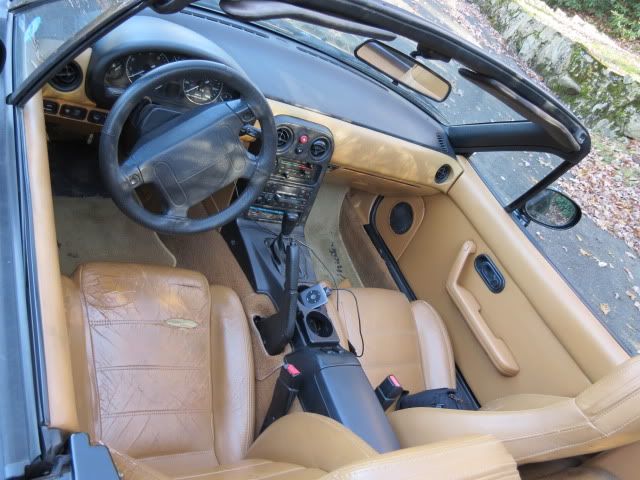 Practicality wise the Miata is obviously quite small, with seating for two, and only adequate trunk space, it is wise to only take the car out when not having to bring too much with you. It is just fine for basic errands and a decent amount of groceries. Anything more may be asking too much, especially if someone else is occupying the room in the passenger seat. On a good note though, because it is so light, it gets great fuel mileage. Even when driving aggressively I still manage around 30mpg. It also takes regular fuel, unlike many other sports cars, so going out for a cruise doesn't waste too much money . Maintenance is also pretty cheap, even with some of the normal older car issues I have had (new starter motor, fuel relay, etc), and overall the Miata is very reliable.. Even if I needed a new engine or transmission it would only cost a few hundred bucks if I bought parts off of Internet forums. It should be said though, that if you are buying a cheap sports car like this you should do most of the work yourself because mechanic labor adds up quickly. So overall I would say that the Miata is far more economically practical than spatially practical in day to day use.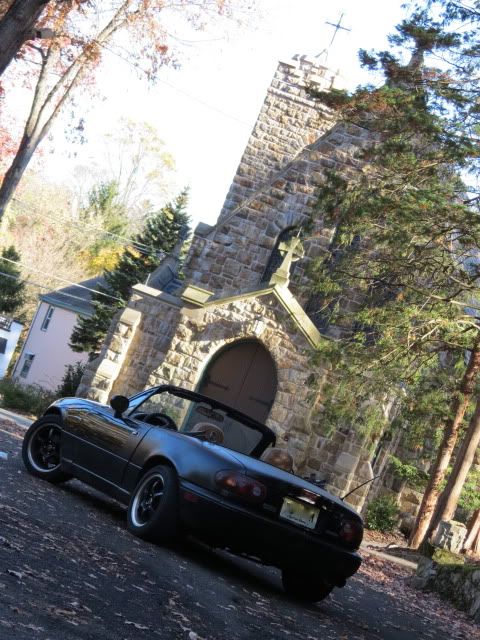 The best thing about the car is going out for a cruise though. Everything the Miata does well comes out here. It is a huge amount of fun to rip around on some twisting country roads, the sound of the engine echoing off the trees. With the top down, I am out in the elements and able to enjoy beautiful weather with the sun on my skin and the wind through my hair. The whole experience is truly sublime, a great way to take a break from life and just enjoy myself, and I won't be wasting that much gas by doing it either. The car is just a lot of fun to drive around in, regardless of where you are going. It is one of those cars that does not take itself too seriously, which allows for some good laughs. It even has a button in the middle that's only purpose is to raise the pop up headlights, without turning them on either, allowing me to "wink" at people as they drive by. It's a laugh to be in and be seen in, on top of the Miata's already playful nature. Anyone who scoffs at this kind of fun is usually insecure and likely takes themselves too seriously (looking at you Mustang owners).
All in all my Miata does exactly what I want it to. Sure it is rough around the edges with its various paint textures, welded fenders, cracked leather, struggling windows, squeaky bushings, high miles, and various dents; but that is the whole point of the car. It is all about having a good time and not worrying about small things. If there is a shopping cart in my parking spot, instead of getting out and moving it like I do in my STi, I just push it out of the way with the car. It's imperfections make it that much better. It is like the go-cart I was never allowed to have as a kid, and it has been a blast owning it so far. Sure, maybe I could use a little more power and sure I could do even more to make it into a race car. Maybe I will, in time, but for now I am enjoying it as a roadster. Auto cross is definitely in the plans for next spring, and maybe some track use if I get a roll bar. I am even considering an N/A rotary swap from an RX7 or RX8 as a possibility after college, so who knows where this car will be in a few years if I keep it going. Honestly though, the Miata is fine as it sits, offering me plenty of enjoyment on the open road, so anything more is just a bonus.
WoM Score: '93 Miata (used)
Primary Function: Performance: 1.5……… great handling and driving dynamics, but still slow
Secondary Functions: Practicality(1), MPG(2): 1.5
Visual Appeal: 2
Build Quality: 2……. no fit and finish, but it runs like a tank
Value for Money: 2

Final Score: 9/10
-Nick Walker
---