Cars 101: The Awful Dangers in Automobiles
Posted: February 15, 2012
Filed under: CARS 101, USER SUBMITTED
| Tags: 101, Asbestos, Automobiles, brakes, Cars, clutch, danger, In, Mind, motor, Over, toxin, warning
Leave a comment »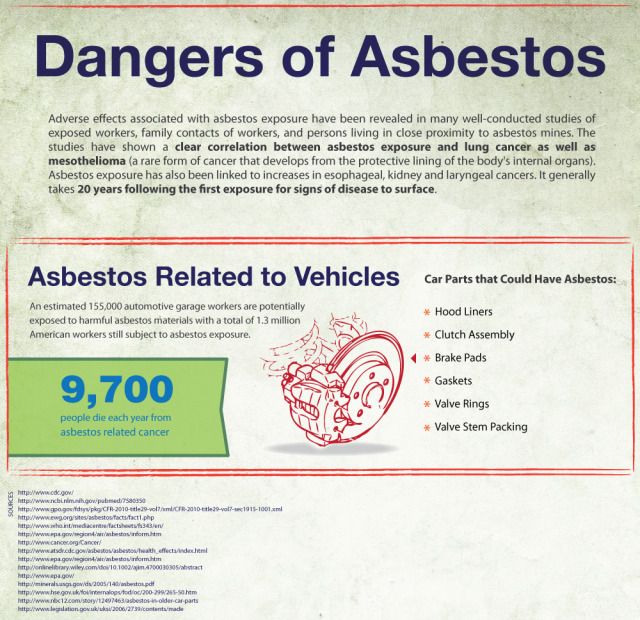 It's no surprise that a car can be a dangerous device. If the speed and momentum isn't killing somebody swiftly, then the very substances that go in and out of it will do the job slowly from the inside. Many toxic chemicals can be found in the vehicles we use and depend on everyday; if we want to be safe and responsible automobile owners, then it is absolutely vital that we take the proper amount of time to understand them.  
The most notorious toxin to find in an automobile would be asbestos, which is often used in brake pads, linings, clutches and gaskets. Exposure to asbestos can lead to a variety of lung-related cancers such as plural mesothelioma. Although asbestos is thankfully no longer used in the vast majority of cars produced in recent years, it's still present in millions of older vehicles that are still in circulation today.
Lead is another common toxin. Usually used to balance the vehicle's wheels, or as an electrode in the battery, lead is especially well known for its ability to poison the human body. Short-term lead poisoning can result in a number of symptoms, including nausea, diarrhea, gastrointestinal problems and chronic paresthesia. When prolonged, it can result in kidney damage and hemolysis, a condition caused by the rupturing of the blood cells.
Toxins do not just exist under the vehicle's hood; they can also be located in the most mundane places. Recent studies have revealed that trace amounts of chlorine and bromine have been found in the interiors of newly assembled cars, including the seat cushions, armrests, wire insulations and doors. Sadly, these substances are what usually cause the so-called "new car smell" that we all know and love. In small doses, neither of these halides is particularly dangerous; chorine can be found in a variety of plastic products, while bromine is commonly used as a fire retardant in carpets. However, exposure to both simultaneously over a long term with little air circulation causes our own body to release too much iodine, which plays an important role in the human body's immune system. Overall, long and frequent car rides can and will have a negative effect on one's health.
It's important to practice caution and restraint whenever you need to examine the inner workings of your car. Avoid lead poisoning by wearing safety gloves, and wash yourself thoroughly after handling the material for any amount of time. Figure out if your car has asbestos and hire a trained professional to examine it when needed. Most of all, clean out your new car smell through weekly vacuum cleanings, and open your windows periodically during long drives to get some fresh air inside. Don't let the toxins in your car get the best of you!
-Brian Turner
---