Test Driven: Lamborghini Aventador LP700-4
Posted: July 12, 2012
Filed under: High End & Exotic, TEST DRIVEN
| Tags: Drive, Exotics Racing, Lamborghini Aventador, Las Vegas, LP700-4, Mind over motor, Murcielago, V12
Leave a comment »
This is obviously quite an incredible car, one that is drooled over by the masses and treated as automotive royalty my most car buffs. I am guilty of doing much drooling over the Aventador myself of course, and I honestly think it is the best looking scissor-doored Lambos of all time; all of its insane looks and proportions are just perfect. I could just spend all my time here mindlessly ogling over the Aventador, and cater to the belief that such cars are indeed automotive royalty and can do no wrong. That, however, would not be the truth because the real story with all V12 Lambos is that, underneath all the speed, the sound, and the auto exotica, they have all had big flaws. Sure, many of their flaws add to the exotic experience on the street, and none would be a true Lamborghini without this aspect, but many of their shortcomings have also been in their driving experience. So how does the Aventador stack up to its ancestry? I went to Exotics Racing in Las Vegas to find out.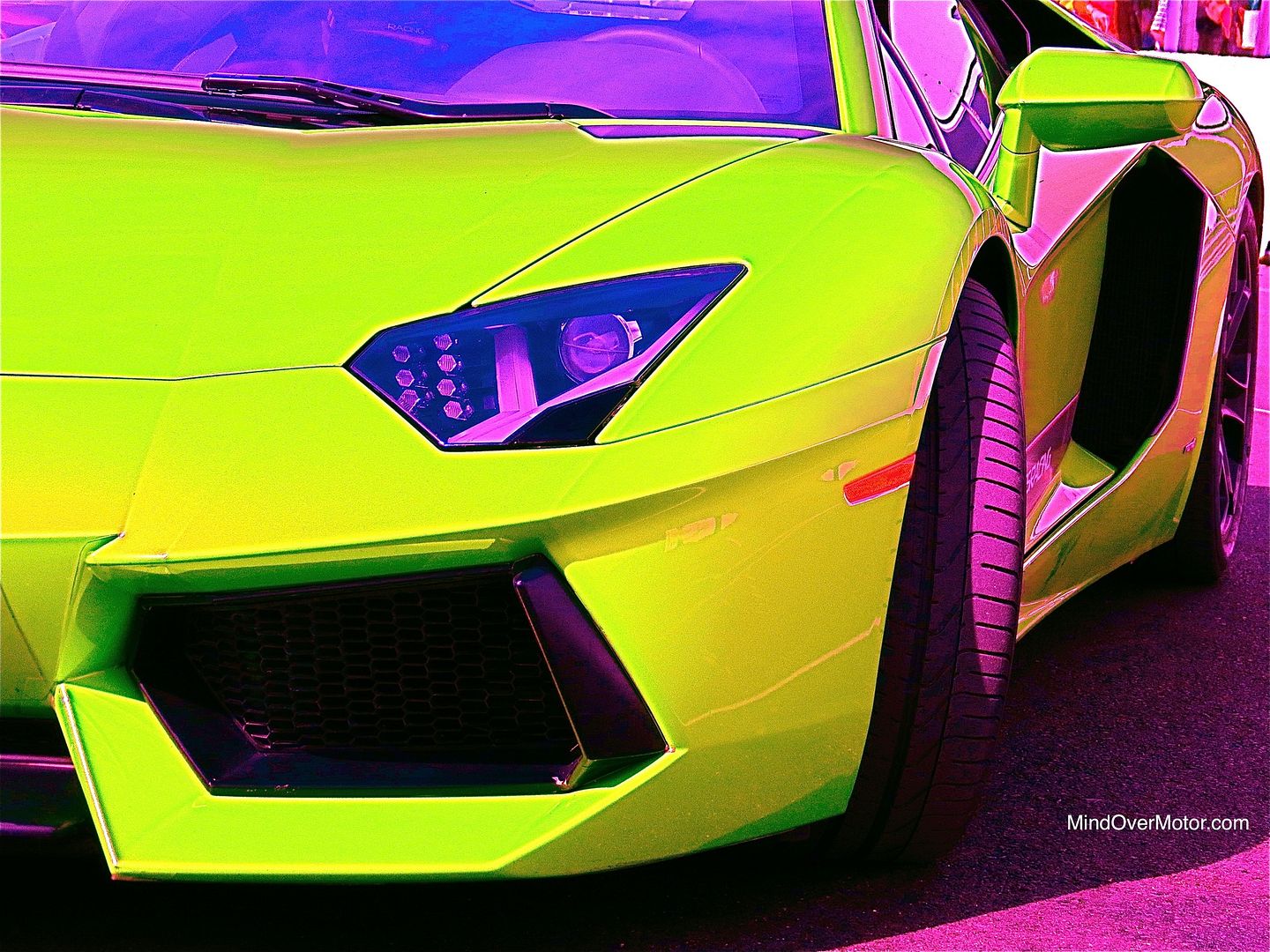 On the track the driving experience is everything, so all the craziness of the Aventador's image meant nothing during my drive. My attention would be wholly focused on the car's dynamic abilities and how good it was to drive hard. Lamborghini has made many improvements over the Murcielago with the Aventador, more power less weight, etc, so it looked as if there was a decent chance that a V12 Lambo may be good on a racetrack for once.
Sitting inside, I notice many ergonomic improvements over the Murcielago, improvements I had really hoped would be there. The driving position is now very good with the steering wheel and pedals all right in front of the driver, opposed to being a few inches to the right like in the Murci. The seats are far more comfortable now, with no more annoying pokes in the back from the styled seats. Rear visibility is still a joke as far as the center mirror goes, but the side mirrors are better, and there is a bit more window room over your shoulder that will make merging much less of a gamble. The new digital gauges are very clear, and overall cabin design has much improved for functionality as well (The fighter jet like starter button is a fun touch too). The Aventador has not been watered down too much though, it is still wider than a lane of traffic, and low enough to fit under an 18 wheeler; in fact I couldn't fit in the seat with my helmet on and I am only 5'11". From behind the wheel it still feels like a big lambo, so great care must be taken when negotiating tight areas or parking.
As we pull off I realize that the car feels like a big Gallardo; it has that low centered feel, light, sharp steering, and a sort of jerkiness from the transmission at low speeds. This is opposed to the Murcielago which had very heavy steering, and felt hefty and unwieldy in all situations; the Aventador is much improved in these regards.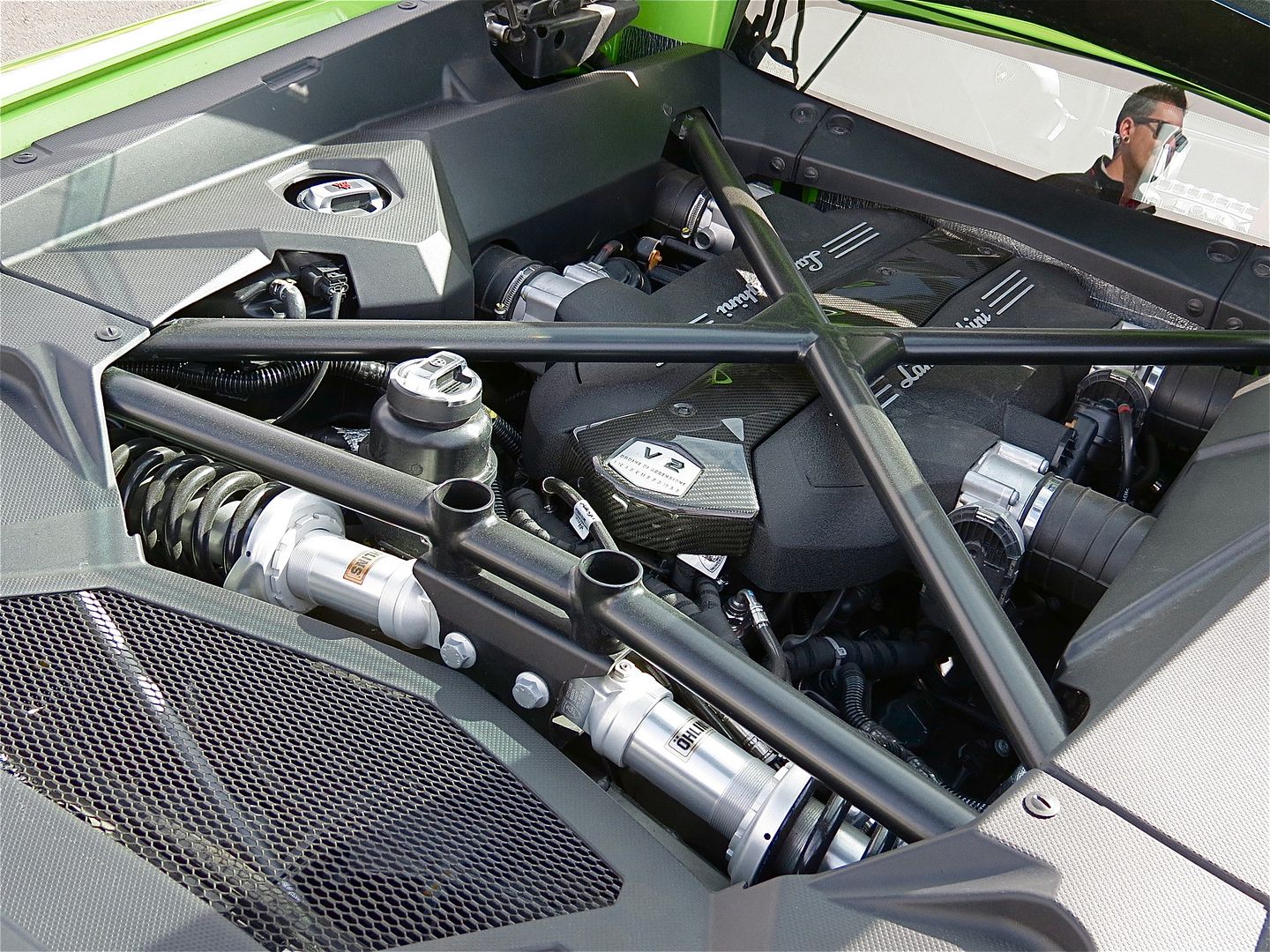 Once we get out onto the track we round a bend and hit the main straight. I decide not to waste any time and give 2nd gear full throttle. The whole world shoots backwards with an unreal force as the 690hp V12 screams with unrelenting fury. A few expletives later it is time to pull the paddle and hit 3rd gear. The whole car slams as the ratios are swapped, and then the savagery resumes. The Aventador definitely has a pace superior to that of the Murci on the straights, with a proper Lambo sound and no mercy given from the acceleration. I hit 4th gear and the car continues it's attack hard, but then, all too soon, it is time to brake for the oncoming, banked corner at the end of the straight.
Through the next few corners I start to realize that there is something not quite right with the Aventador, it is deceptive. The staff had warned me of the carbon brakes and their need to heat up, but hearing and experiencing it are two entirely different things. With these brakes you will press the pedal hard when the instructor says, believing they are working to slow the car down, but in reality there are a few moments where they aren't doing much at all. This leads to a lot of panic braking deep into the corner, and for normal drivers poses a problem because they think they are following the instructor's orders. Mix this with the already deceptive sense of speed in the Aventador and you wind up with a dangerous mixture that will easily send you into a corner far too quickly, and no safety aids can help you there; 100mph feels like 50mph in this car. It is as if the car is lying to you because you really feel as though you have done everything correctly when you haven't, and that is dangerous. The Aventador is the first car that has actually scared me from behind the wheel. I can accept finicky handling, deceptive speed, or a variety of other issues in a car, but the brakes not working is unforgivable, especially in a car with this sort of power. Some flaws can make a Lambo more exciting or unique, but this is not one of those. These are by far the worst carbon brakes I have experienced, having tried others on Ferraris and Porsches, and this is backed up by the fact the Exotics Racing was already in the process of finding steel brakes to replace them. The Aventador's carbon brakes also have been seen to catch on fire on BBC Top Gear, and a few other media sources, so this is a rather serious shortcoming for this car that Lamborghini will hopefully fix.
In addition to the braking issue, I found myself struggling with the Aventador's handling. Again it felt deceptive because it had sharp turn in and was very responsive to inputs, but once in a corner it had excessive understeer with no feel for the car's limit. Understeer in a car like this is usually a good thing, but it needs to happen just as you are approaching the limit. Then when you reach the limit, the car should begin to oversteer. This allows the driver to be able to balance the car through a corner, riding that perfectly neutral point between understeer and oversteer. The Aventador had far too much understeer tuned in, and its real balance point lie well within its large understeer range, so it is very difficult to sense when I only had a short time in the car. Also, because I was looking for the point where understeer transitions to oversteer, thinking the balance would be there like it is in most other performance cars, I wound up carrying way to much speed into some of the corners. This was partly my fault for expecting too much of it, but also the car's fault for not giving me any real information through the chassis. The Aventador is really not a car that wants to carry lots of speed through corners, and most drivers will simply be better off slowing down early and then using the car's unbelievable power and traction to make up the speed.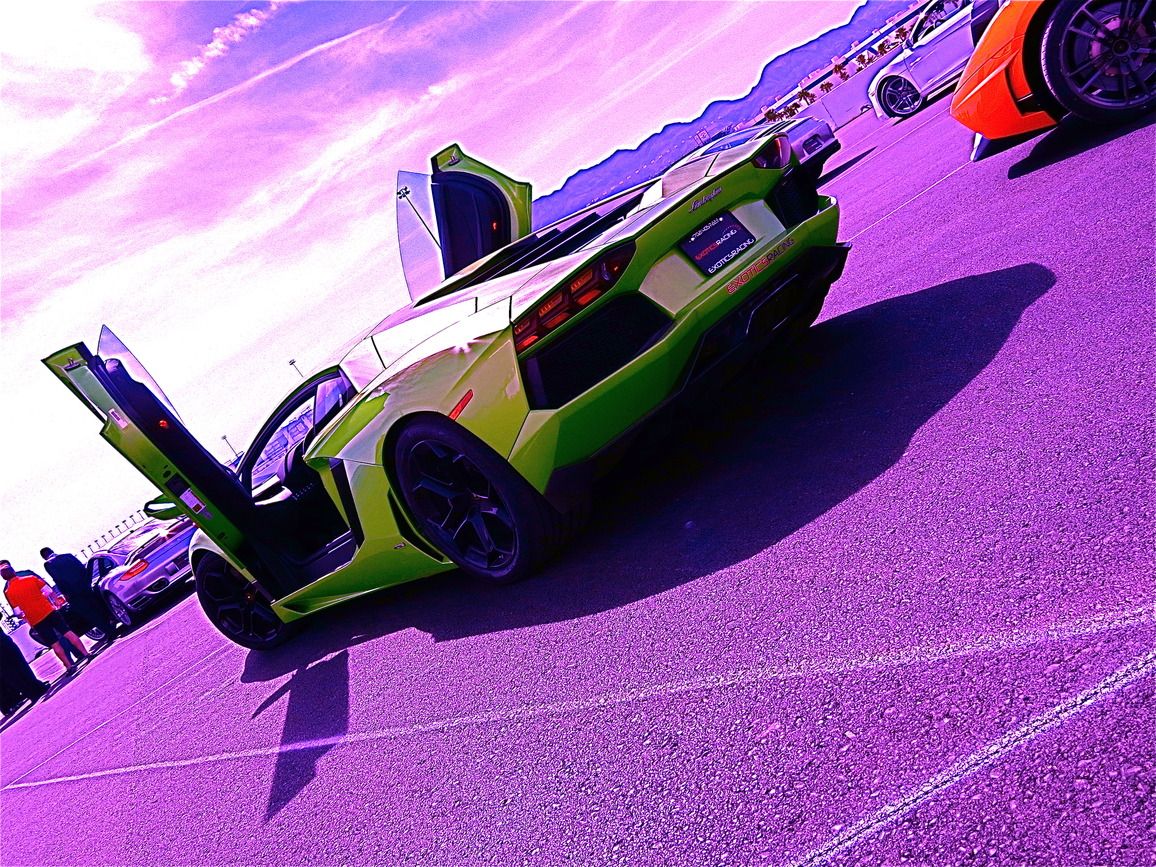 The Aventador does achieve some solid handling figures on paper, but from the driver seat it just felt out of its element here. On the track you are constantly pushing the limits of the car's handling, and the Aventador just winds up fighting you the entire way. Other cars, like Ferraris, have a sort of telepathic connection to the driver; this thing felt more like restraining a wild beast. It was certainly a thrilling experience, but also terrifying. If a Ferrari is like riding a roller coaster, then the Aventador is like chasing a tornado, much more sense of real danger. That said, its handling characteristics below the limit are as sharp and crisp as anything, so this is a car that will be amazing fun on the street.
It was a very yin and yang type of experience overall, the car was phenomenal fun every time I opened the taps on a straightaway, but then the wrestling resumed when we got into the corners. At the end of the drive as I pulled the car back in I found myself more frustrated with it than anything. When asked how I liked it I said "Its not much of a track car is it?" and the instructor replied "Well, it is, but you have to hold back more, you cannot drive it hard". For me this means that it isn't a track car at all because limits should be pushed on the track, not restrained.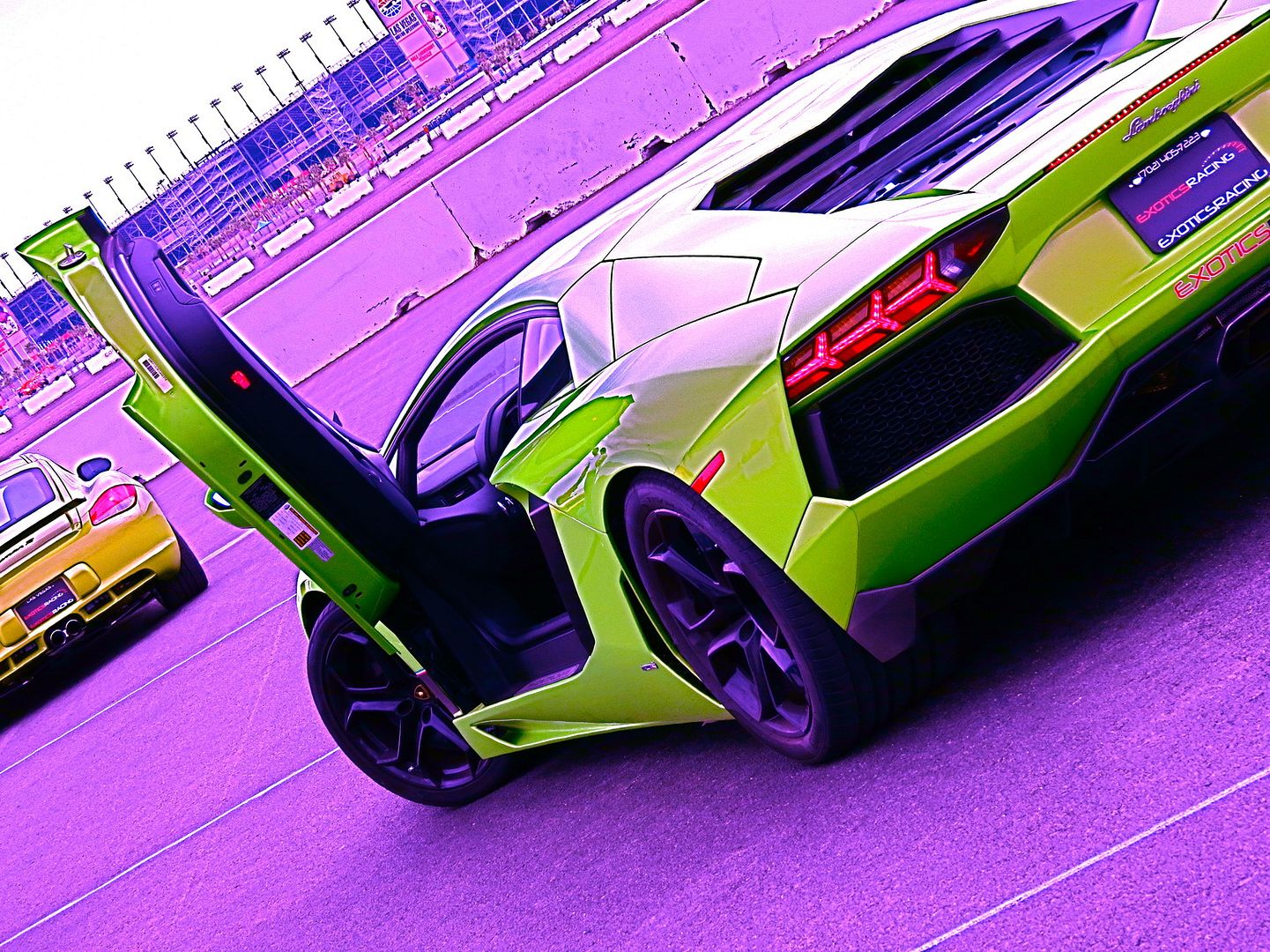 So, what does this mean for the Aventador? Truthfully, it means nothing at all because all of its iconic predecessors were terrible track cars as well. If anything I would say that all these dynamic flaws actually make it a proper Lamborghini in the truest sense. Big Lambos are not meant to be amazing track cars like many other supercars are.  Their whole appeal revolves around being out on public roads where they are heralded as something incredible, something vulgar, and improper; a big middle finger to society, that is what makes a Lamborghini. On the track all of this appeal doesn't exist because the experience is purely about a car's dynamics. The real world, with its unsuspecting plebeians and social rules to upset, is necessary to experience a V12 Lamborghini in its true element.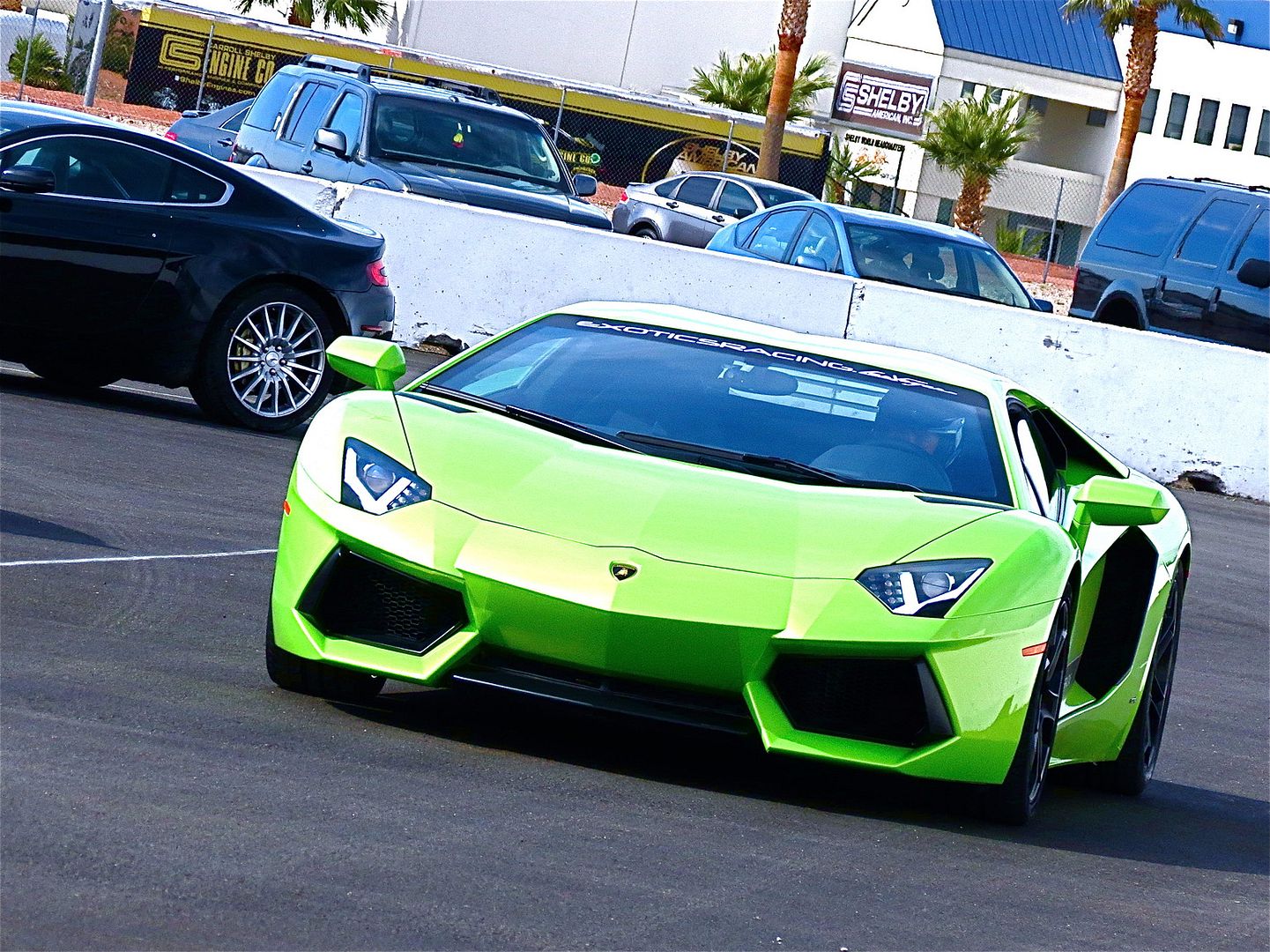 My drive in the Murcielago last year was on public roads, and I got a solid taste for what makes these big Lambos so special. Had I not had that experience I probably would have hated the Aventador. However, because I had experienced its predecessor in the proper way, I knew what to look for to see if it was a "proper" Lamborghini. I thought back to the Murcielago drive, and kind of put the Aventador there in my mind. My conclusion is that it has been improved in every way relevant to being a proper Lambo. All of the little ergonomic issues that bugged me about the Murci are gone. At the same time it still feels completely outlandish compared the way a normal car drives, so the extremity of the experience is still present. Looks wise it is even more striking than the Murci, and it is also lighter, more powerful, and therefore faster. There is also nothing quite like that V12 for a mix of unholy power and ludicrous sound. So, despite all of the dynamic flaws, the Aventador remains a very proper Lamborghini when all is said and done.
Judging a big Lambo like this on its track ability is kind of like judging a Toyota Prius on its track ability; sure you can drive them both around a track as hard as you are able, but neither car was made for that purpose. I know that may be a bit extreme, but I believe it is true. With that said, the Aventador should handle just fine for most people on public roads, and its power alone will make it a blast for anyone. The Aventador definitely has that famous appeal, and despite my frustration while driving it, I could not get it out of my head afterward. Like any good Lambo it demands attention, and it definitely has that  "special" aspect that defines it as an experience. People will react to the Aventador when they see it, some with finger wagging scorn and some with bursts of excitement, and it is this that really makes driving a Lambo fun. The track was great in that it allowed me to experience the car's speed legally, but I didn't get that fun, naughty feeling that I got while driving the Murcielago on public roads. So, in the end I am glad I got to experience the Aventador on the track as I did, but next time I definitely want to drive one on the street.
Overall the Aventador holds true to the Lamborghini way, it is fast as all hell, the engine produces a symphony as the revs climb, it's appearance defines the term "extreme", and for some reason its flaws are a part of the appeal that sets its experience apart from the rest of the supercar pack. The Aventador carries on the torch as a proper Lambo for better or worse. It is divisive but it makes at huge statement, and that is what makes it unbelievably cool.
WoM Score: 
Primary Function: Performance: 2
Secondary Functions: Luxury(2), Practicality(1): 1.5……. Much improved over Murci, still a big Lambo
Visual Appeal: 2
Build Quality: 2
Value for Money: 1
Final Score: 8.5/10
PS:
You can try out this Aventador at Exotics Racing in Las Vegas, Nevada and see what you think of it. While my reaction to the car was a bit mixed on the track, it is still quite an experience for anyone who loves cars. The staff there is great and they make sure you have a good time. Hopefully with its new steel brakes the Aventador will be less of a nail-biter for both the driver and the poor instructor, who was growing gray hairs left and right. Exotics Racing also offers the cheapest way to get your hands on this new hyper-Lambo at just $500 and no damage deposit. Their new track is great, and offers plenty of chance to enjoy the Aventador's flat out speed. Just be a little conservative in the corners and you should have plenty of fun with it. The Aventador is quite a car to experience, so if you are out in Vegas go check it out. I promise you will have a great time.
More pics and a video below:
-Nick Walker
---