Posted: August 22, 2011
Filed under: Extreme Ricers, SPOTTED!
| Tags: chrome, Mazda, Mind, motor, Newtown, Over, PA, Pennsylvania, rice, Ricer, RX8
Leave a comment »
I was only able to get this one picture because it was pouring rain, but the car carried its fake chrome accent theme throughout. I love how it was all pretty obviously glued on by someone too. The car also had a chrome shift knob in the shape of a beetle or something. It had sharp parts and looked like it could stab your hand during a hard power shift. Also, it is impossible to miss the huge "functional" spoiler that "helps horsepower by adding downforce yo". Of course it is common knowledge that adding aerodynamic drag to a slow car will actually make it faster…..
Spotted by- Nick
---
Posted: May 24, 2011
Filed under: Extreme Ricers, SPOTTED!
2 Comments »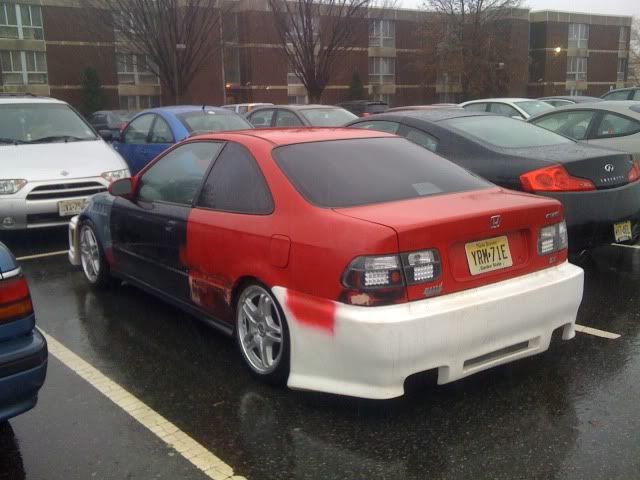 One of the most extreme ricers I have ever seen. If you look in the gallery below you should notice how the exhaust exits into the bumper. My friend heard her drive by in a parking lot and asked if it may be supercharged, I told him no and that what he was hearing was the transaxle begging for death but being denied ever so slightly.
Spotted by -Nick
Click to see more pictures:   Read the rest of this entry »
---