Posted: January 10, 2013
Filed under:
SPOTTED!
| Tags: BMW M3, BMW M6, Detroit, Honda S2000, Lexus IS300, Mazda RX7, Miata, Mind over motor, Modified, Porsche 996 Turbo, Shelby Mustang GT500, Subaru WRX STi, Toyota Supra, Woodward Ave
Leave a comment »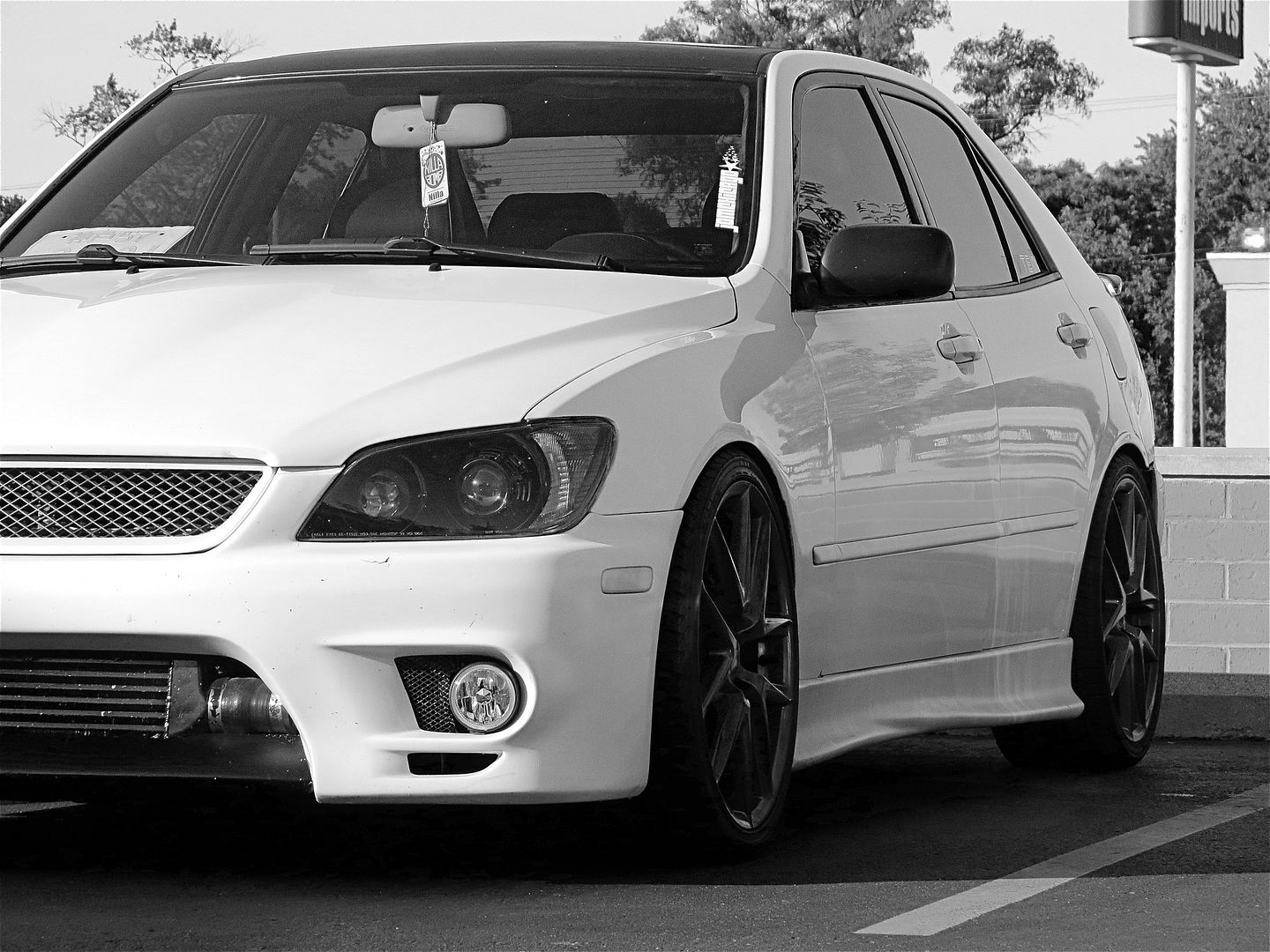 Every weekend Woodward Ave was filled with awesome cars of all sorts. Most of my attention was on the muscle cars and exotics of course, but every now and then some of the tuners caught my eye. The modified car scene is lots of fun to participate in, but when it comes to taking pictures one can only photograph so many of the same type of car. Specific builds are interesting to see, but to the camera its a bit dull compared to the plethora of much more unique car in the area at the time. Here are a few of the tuners that I decided to capture. Enjoy.
---
Posted: November 24, 2012
Filed under:
AUTOMOTIVE INSIGHTS
| Tags: Mazda, Miata, Mind over motor, Roadster, Winter
Leave a comment »
-Nick
---
Posted: November 9, 2012
Filed under: Road Review, TEST DRIVEN
| Tags: 13B, 1991, Convertible, Drive, FC, manual, Mazda, Miata, Mind over motor, review, Rotary, RX7, Sports Car, Used, wankel
1 Comment »
A Wankel, or rotary, engine is a bit of an automotive conundrum these days. It is a technology with some very distinctive pros and cons, making it very controversial amongst car people. In fact, Mazda is the only company that has dabbled with it in modern production cars, and the RX8 just recently went out of production. The rotary is the trademark feature of their RX line of sports cars, in the same way that a rear engine design is the hallmark of the Porsche 911. I got my first taste of a rotary when I reviewed the RX8, and I thought it was quite fun. So when my friend Shane told me I could borrow his '91 RX7 convertible for the afternoon, while he was at work, I jumped at the opportunity. Sunny day, convertible sports car, rev happy Wankel motor, it sounded like a great time to me.
---
Posted: September 17, 2012
Filed under:
AUTOMOTIVE INSIGHTS
| Tags: beautiful, Chris Harris, Cruise, Love, Miata, Mind, motor, Over, Roadster, Weather
2 Comments »
The weather in the Northeastern US was incredible this weekend, so I took a nice long cruise in my Miata. This was the first cruise of this sort I have taken in it since I got back from my summer in Michigan a few weeks ago, and in a lot of ways there was some reacquainting that needed to be done. Before I left for the summer I uncovered a few issues with the car that needed, or still need, dealing with. I subsequently found myself second guessing the financial aspects of it all the whole summer, even thinking it may be easier just to part it out. This cruise gave me some much needed quality time with the car, with the perfect weather and on perfect roads I was reminded why I bought the Miata in the first place.
The timing of all this was interesting because Chris Harris had just released a video on the Miata where he second guessed his now infamous stance against the MX5. His conclusion was that the Miata is a great roadster but a mediocre sports car, and one of the most fun ways you can spend a few thousand dollars (or pounds). I have to agree, there are better driver's cars out there, and it took a few modifications to my car to get it where I wanted it to be dynamically.
The roadster experience though, is second to none, and every time I drive my car I cannot help but thinking the newer, more expensive Miatas could not possibly offer anything more. Sure if you line mine up against the current NC Miata I would lose in a drag race, but neither car is fast by anyone's standards, and neither car is meant to be.
So what do you really get by spending more than just a few grand on a Miata? Maybe a warranty if it is new enough, but as far as the experience goes you get nothing more for your money. What I'm saying here is that there is really two ways to buy a Miata, brand new, or as cheap as possible. Any other way and you are just wasting money. All of those NB Miatas around $10k are worthless, because a $2800 NA Miata like mine will give you the exact same experience.
I do love my car, and it reminded me why during our cruise on Saturday. A Miata is an experiential machine, and despite my car's flaws it still puts a huge grin on my face.
-Nick Walker
---
Posted: August 10, 2012
Filed under: Auto Idolatry, SHOWCASE
| Tags: &, 20, and, Car, Comparison, Driver, driving, Elan, fun, History, Laguna, Lotus, Mazda, Miata, Mind, motor, MX5, Over, pleasure, Raceway, Roadster, Seca, Super, vs
Leave a comment »
This is a great video showcasing two of the best roadsters in history. The Elan was the inspiration for the MX5 in a different era, and both cars have lessons to teach other carmakers today. This is pure driving and pure fun, the hell with 0-60 times and 1/4 mile runs. I can only hope that one day I get to drive a Lotus Elan like this, it is pretty high up there on my list. Enjoy the vid.
-Nick
---
Posted: April 23, 2012
Filed under: EVENTS / PLACES, Photography by Dan Valanzola
| Tags: 302, 350Z, 4G63, 8, AC, accord, airbrush, AMG, Art, Atlantic, Ball, Boss, C63, Camaro, Chevrolet, city, clean, Dan, drag, Dragon, euro, Evo, evolution, FD, Ford, GC, Genesis, Geo, GTI, GTR, Hatch, Honda, Hot Rod, Hyundai, import, Impreza, intake, Integra, Jersey, Lancer, Lexus, Mazda, Mercedes, Miata, Mind, Mitsubishi, Modded, Modified, Monster, motor, Muscle, Mustang, new, Nick, Nissan, NJ, Over, Photography, race, racer, Rotary, RX7, slam, slammed, slicks, Stance, STi, Street, Subaru, Supercharge, Track, Truck, tuned, tuner, turbo, Valanzola, VIP, VW, Wagon, Walker, Wars, WRX, Z
1 Comment »
We were in attendance for Street Wars 8. The show was a lot smaller than last year due to organizational issues, but there were still plenty of quality cars to see. Photos are by both myself and Dan Valanzola. Enjoy the gallery.   Read the rest of this entry »
---
Posted: August 2, 2011
Filed under:
AUTOMOTIVE INSIGHTS
| Tags: 5, 6, 7, an, automotive, Balboni, box, clutch, decline, Drive, driving, DSG, end, era, Evo, evolution, F1, Ferrari, fun, gear, Lamborghini, Lancer, manual, Mazda, Miata, Mitsubishi, MX5, of, paddle, pedal, purist, sequential, shift, skill, SMG, speed, technology, to, Transmission
1 Comment »
For the entire existence of the automobile, the manual transmission has been the choice for maximum performance and efficiency. It was the enthusiast's choice because it gave the driver much more control over a car than did an automatic. The manual transmission has served the same function for around a century, but now things are changing big time.    Read the rest of this entry »
---
Posted: July 26, 2011
Filed under:
MEDIA RESPONSE
| Tags: 100, 340R, 4, 6, Article, BMW, British, Cars, Caterham, clutch, Driver, Driver's, driving, Elan, Evo, F, F50, Ferrari, Flat, H4, Hatch, Hot, Lamborghini, Lotus, Magazine, manual, Mazda, Mercedes, MF5, Miata, Mind, Mind over motor, Mitsubishi, motor, MX5, of, Over, Pagani, pedal, pleasure, Porsche, Rally, Roadster, Seven, STi, Subaru, Supercars, thrill, top, Transmission, turbo, UK, V10, V12, V6, V8, Wiesmann, Zonda
Leave a comment »
Evo Magazine, a British publication focused on the thrills and pleasures of driving, has been my favorite automotive medium ever since I picked up my first issue. They have a special sense about them of truly genuine enthusiasm for automobiles and driving. It is a magazine that focuses on how a car makes you feel rather than how many cup holders it has or how many centimeters of legroom you get in the back seat. I have basically grown up reading Evo, and I am perfectly in line with how they see cars as things to be experienced rather than just used in a mundane fashion. They also have some of the best photography seen in any automotive publication which just adds even more to their appeal.  Read the rest of this entry »
---
Posted: June 27, 2011
Filed under:
SPOTTED!
| Tags: Club, exhaust, Hella, Mazda, Miata, Mind over motor, Modified, MX5, NB, pokes, Roadster, Scraping, slammed, spotted, Stretched, tires
1 Comment »
This thing was low as hell. He went over a little dip in the road and sparks flew out from under his car. This is surely the lowest Miata I have ever seen in person. Sounded solid too. Great car.
Spotted by -Nick    Read the rest of this entry »
---
Posted: June 26, 2011
Filed under:
AUTOMOTIVE INSIGHTS
| Tags: automotive, Cars, Cruising, Drive, driving, enthusiast, Excitement, for a, fun, getting lost, going, great, Insights, Mazda, Miata, Mind over motor, MX5, pleasure, roads
Leave a comment »
Today was one of those utterly free days where I could actually do whatever I wanted, so I decided, having just gotten my Miata back from a long stint at the shop, that I would take it out and just go on an aimless cruise to wherever the road took me.   Read the rest of this entry »
---