This may well be the perfect daily driver. It's got wagon practicality, all-wheel drive safety and control, the wonderful fuel economy of a diesel engine, and the driving enjoyment of a manual gearbox. This is the new Volkswagen Golf TDI Sportwagen 4Motion, but the one you see here is just a "concept." That means the corporate big-wigs may water it down quite a bit before it reaches showrooms, which would be most unfortunate.
The biggest question mark is the 4Motion all-wheel drive, a feature that is worth its weight in gold for those of us living in places where it snows. The bean-counters at VW may not think that enough units will be sold to justify offering 4Motion as an option, so they put this "concept" together to gauge if us Americans would be interested.  
The Golf TDI Sportwagen 4Motion seemed to be a major hit at the New York International Auto Show, but that may just be because it looked more like a Golf R Sportwagen than an everyday economy machine. 
Either way, I stand by the Sportwagen TDI 4Motion package because it would be the perfect daily car for me, and for many Americans. The manual transmission, while fun, is really a secondary concern. For me the main thing, regardless of gearbox choices, is to be able to have a practical all-wheel drive car that actually gets great fuel economy — there aren't many out there.
BMW makes one called the 328d xDrive Sport Wagon, which can top 40mpg with basically the same package as this Golf. VW has a golden opportunity to swoop in under BMW with a quality, high-value alternative, and they'd be stupid not to take it. Additionally, if VW really does offer a manual transmission in this car, then they will win the enthusiast buyers from the BMW, which only has an auto-box.
If the "concept" Golf Sportwagen proves true to the production version, then I don't think it will have any trouble competing for buyers with the BMW. The Golf's interior is quite nice, even a step up from previous generations, I'd say. Also, as of now, there's no Audi model to get in the way, so it would seem the perfect solution.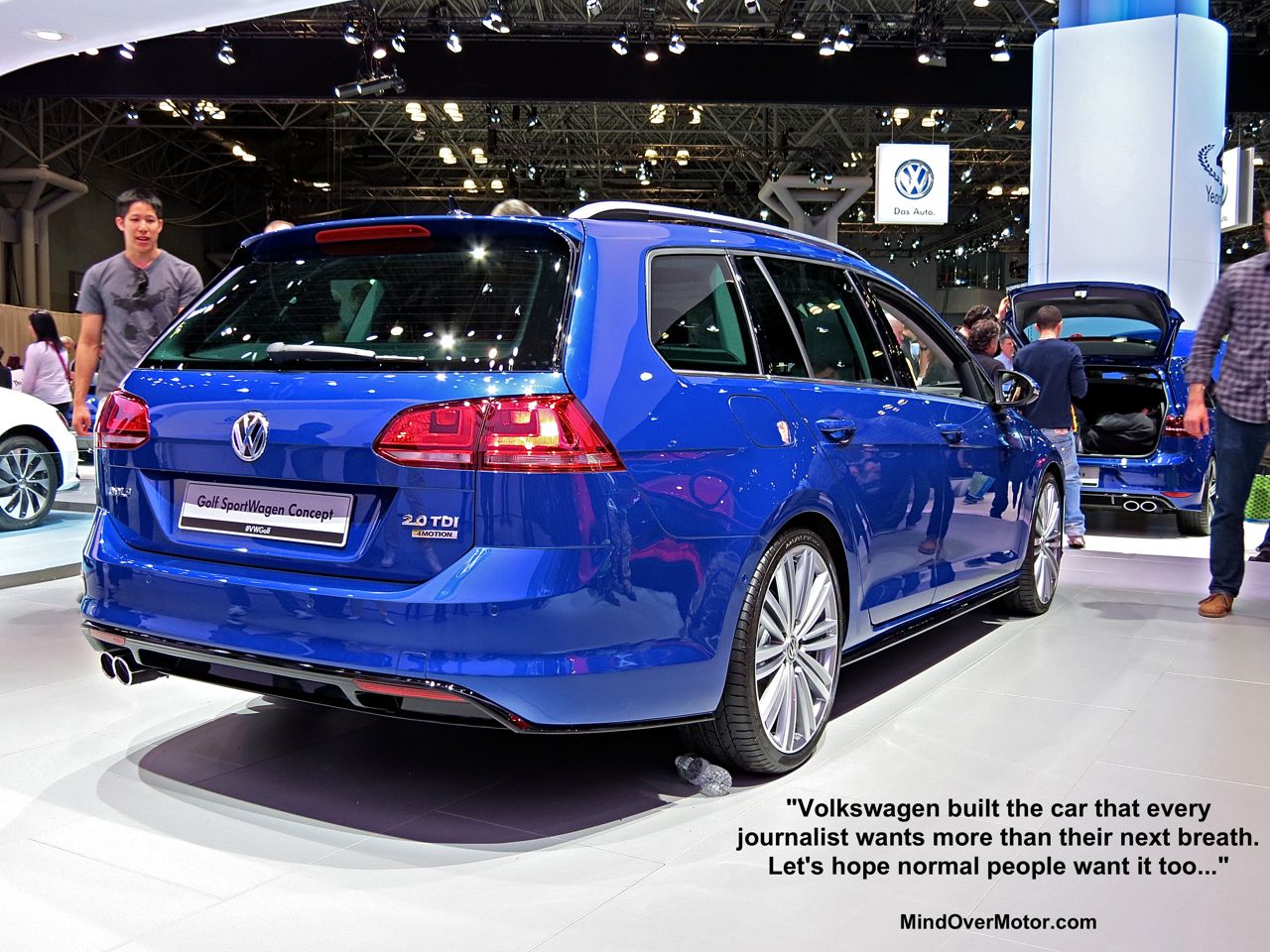 People do want a car like this, and if VW builds it, I'm sure they will be plenty happy with the demand. Remember, most buyers aren't totally informed on what cars are available until they are actually out car-shopping. People cannot demand what is not there for them to purchase, especially with cars because they usually need to find a new car pretty quickly. As such, most buyers have to work with what's available right then and there, so there needs to be 4Motion diesel Golfs and Jettas sitting on showroom floors before anyone will really know anything about the actual demand for such a car. 
In a nutshell, the Golf TDI Sportwagen 4Motion needs to happen. It is the car that many people have been waiting for, and without commanding the luxury premium of a BMW or an Audi, there is a much larger market for it. I, for one, will certainly buy Sportwagen TDI 4Motion, if they build it, to replace my Volkswagen CC after it's paid off.
Build it, VW!!!
-By Nick Walker